Are you looking for a creative way to upcycle an old bathrobe and turn it into something your furry friend will love? This tutorial will show you how to make a cozy dog bed and a toy from your old bathrobe. With clear step-by-step instructions, sewing pattern, and accompanying images, you can easily follow along. This bed dimension is 17 x 22 inches which is ideal for our Maltese dog.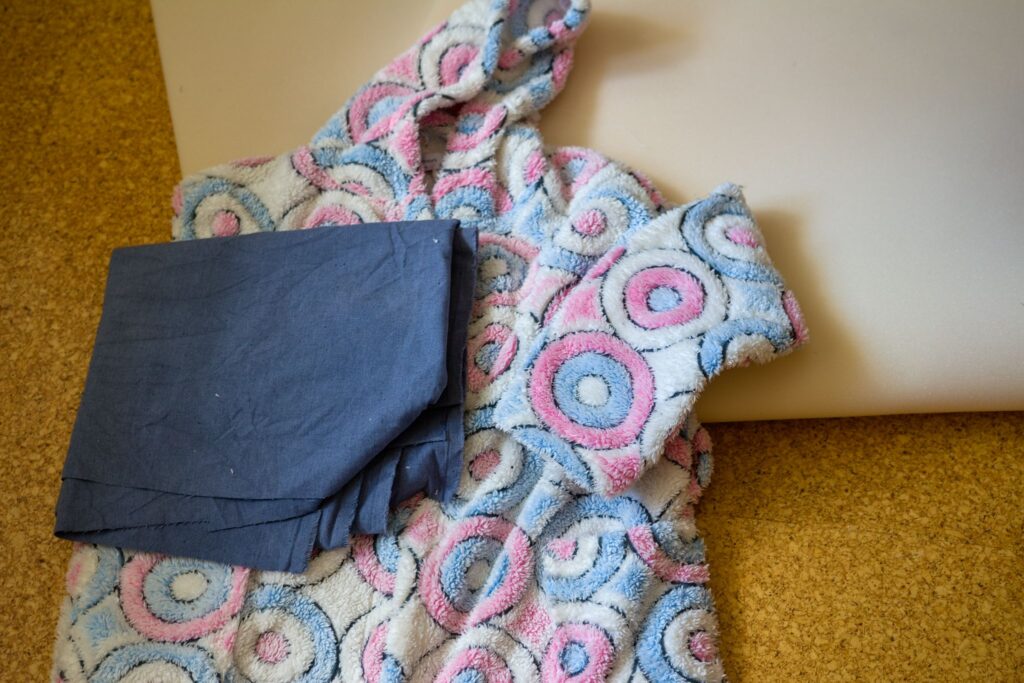 For this project, you will need the following materials:
An old bathrobe
Solid-colored fabric for the lining and bottom of the dog bed
Foam padding for added comfort and support
Thread for sewing the pieces together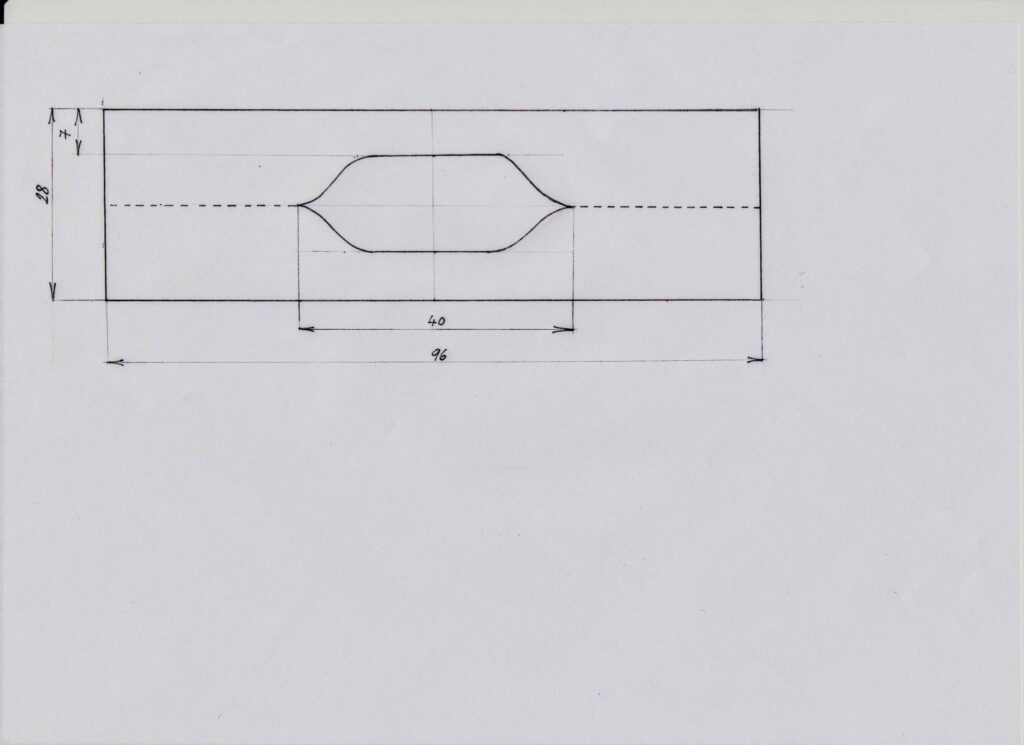 Pattern for the front part, dimensions are in centimeters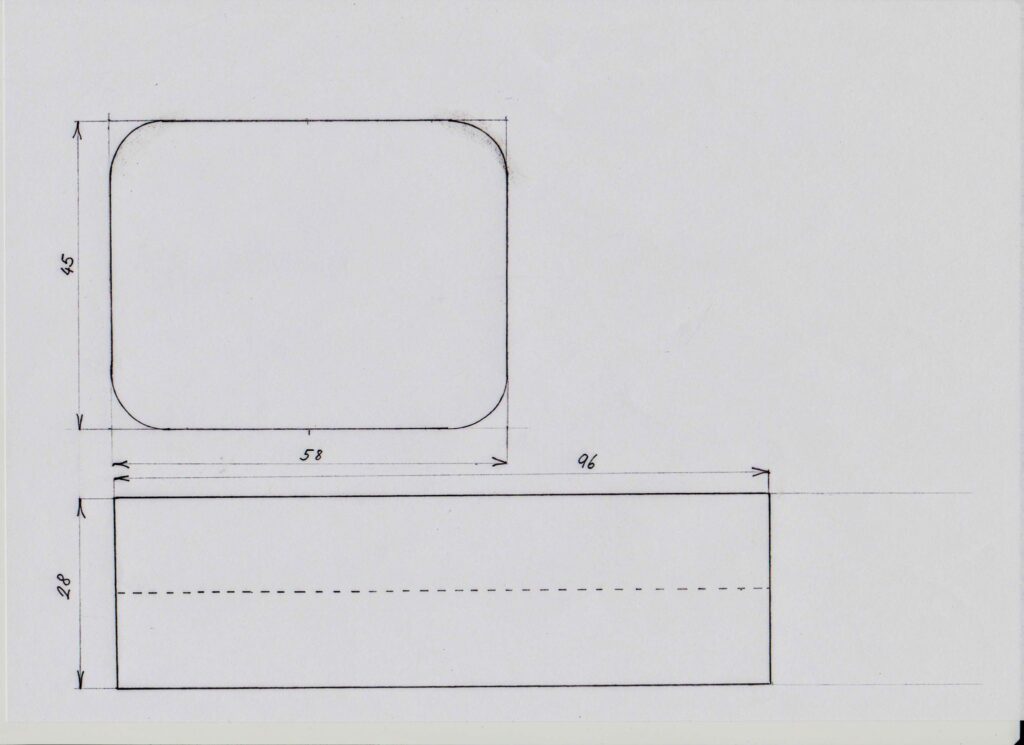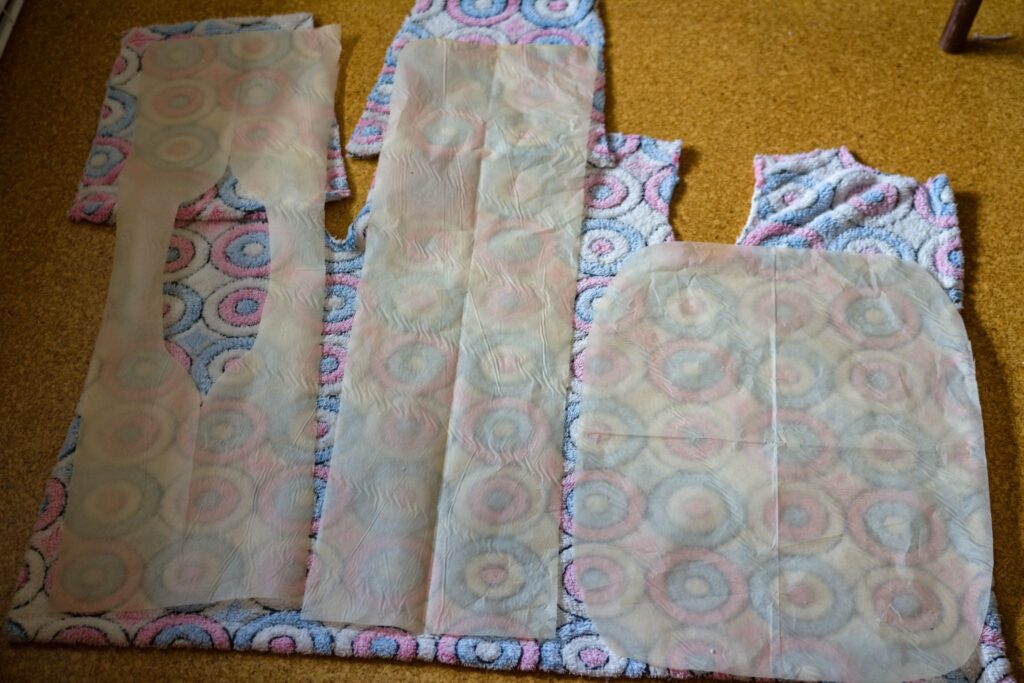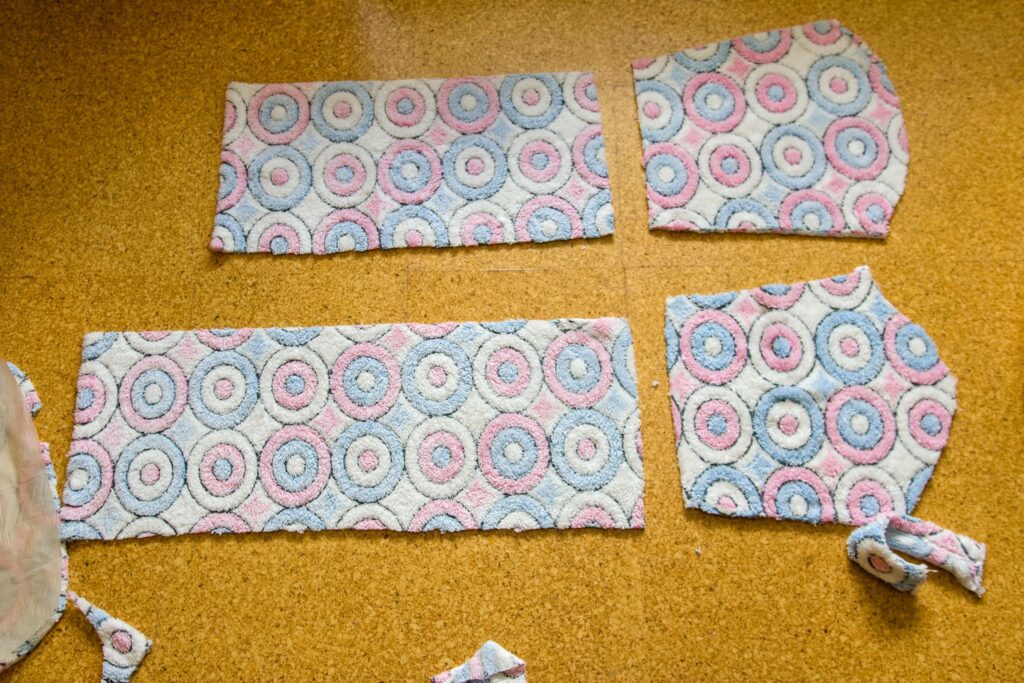 We will use the sleeves to add length to the front and back side panels.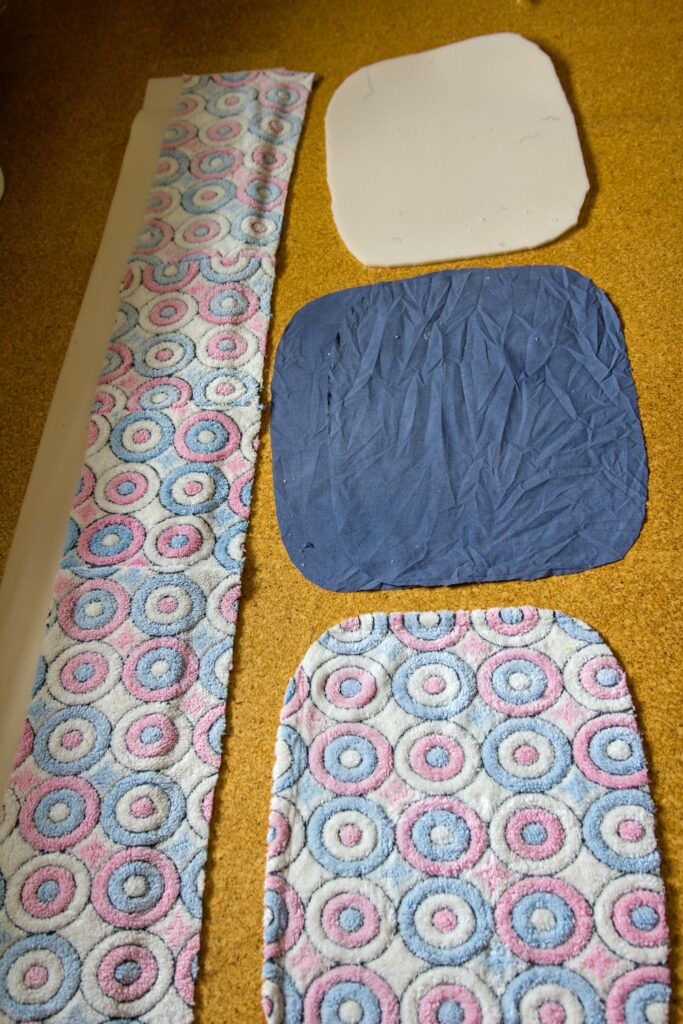 Next, we cut the side parts from the bathrobe and foam (the foam is 0.8 in smaller on each side), 2x the bottom of the bed from a single-colored fabric and 1x from the bathrobe, 1x from foam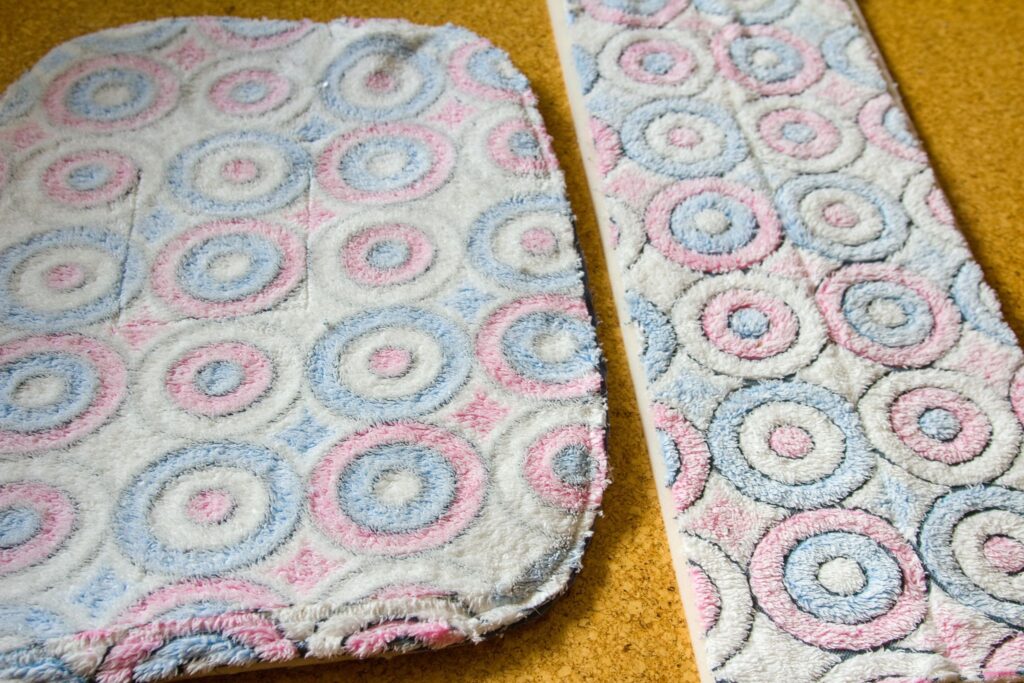 Next, we will sew the cushion. Place the solid-colored fabric, foam padding, and bathrobe fabric with the right sides facing each other, and sew along the edge with a 0.4-in seam allowance. Leave a 4-inch opening for turning the cushion right side out. Then, turn the pillow right side out and sew the opening.
Later, we will add foam padding to the side panel. Place the foam padding in the middle of the side panel and sew it in place using a sewing machine. To strengthen the stitching, place a piece of paper under the foam padding and sew with a larger stitch.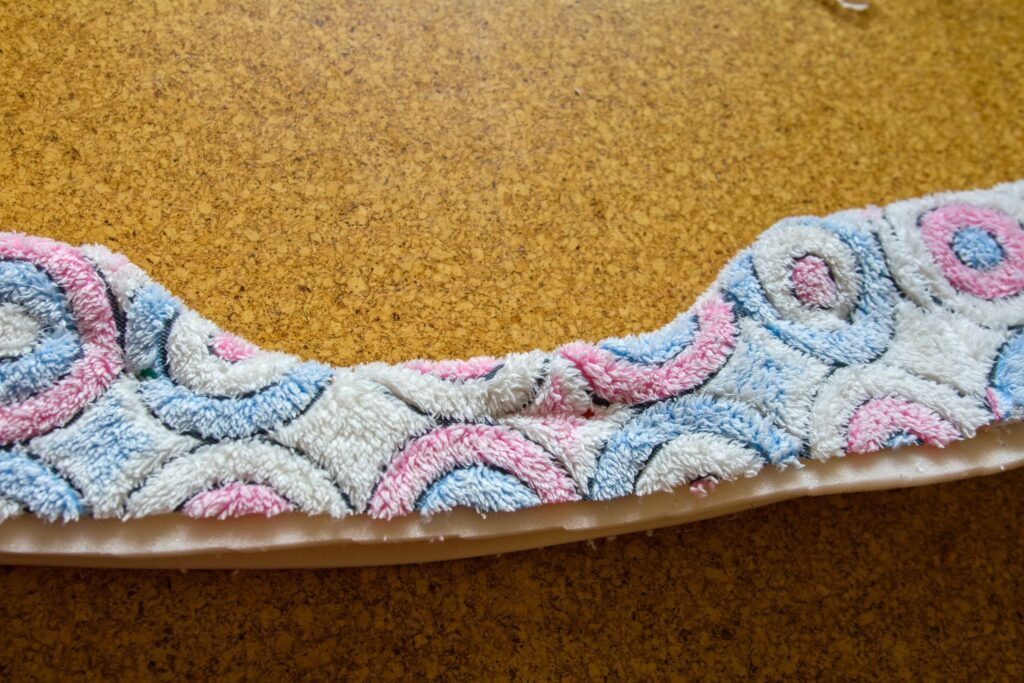 We will sew the front panel. Place the front panel with the right sides facing each other and sew along the narrowed section according to the sewing pattern. This will create the shape of the dog bed.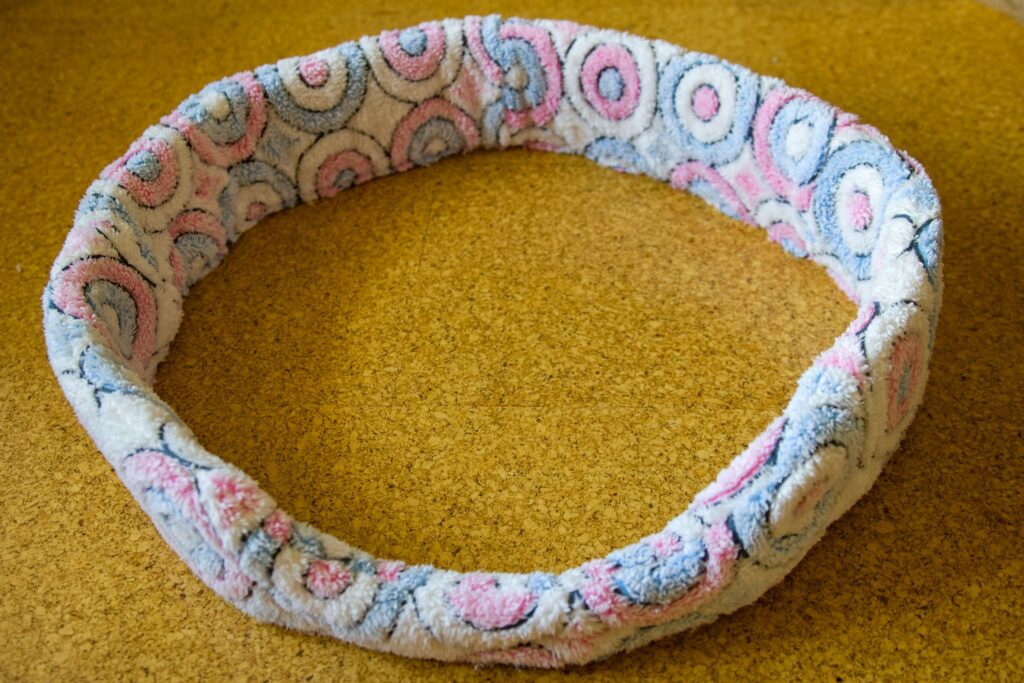 Next, we will measure the bottom circumference and sew the front panel with the rest of the side panel. This will make a circle. To make it easier to sew to the bottom panel, cut off about 0.8 in of foam padding from the side panel before sewing.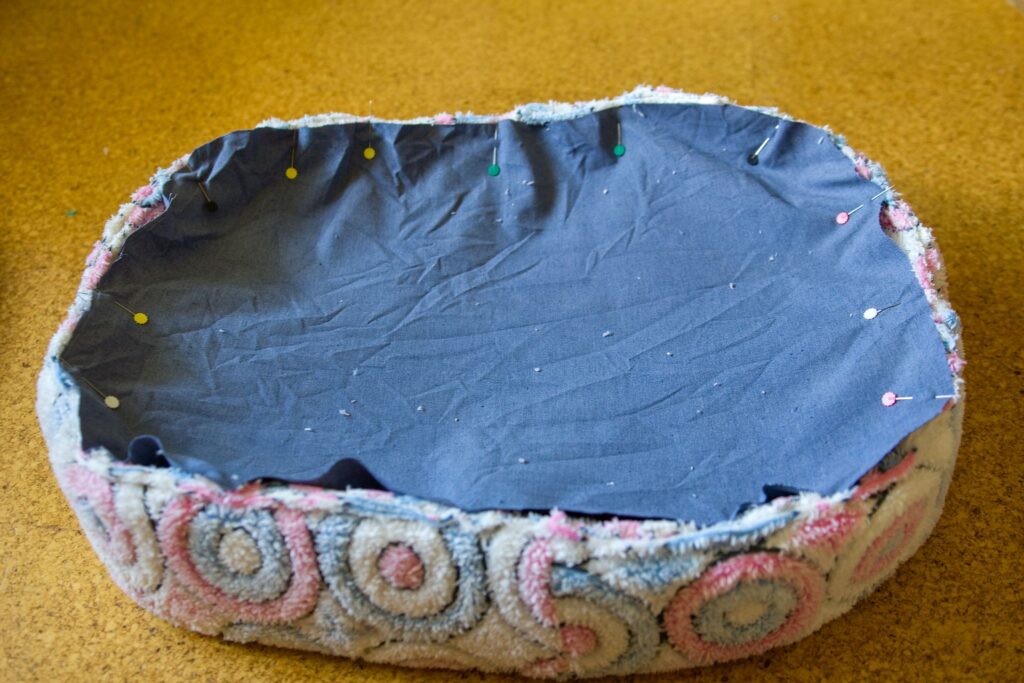 Let's attach the bottom to the side panel and pin them in place. This will hold the pieces in position while you sew them together.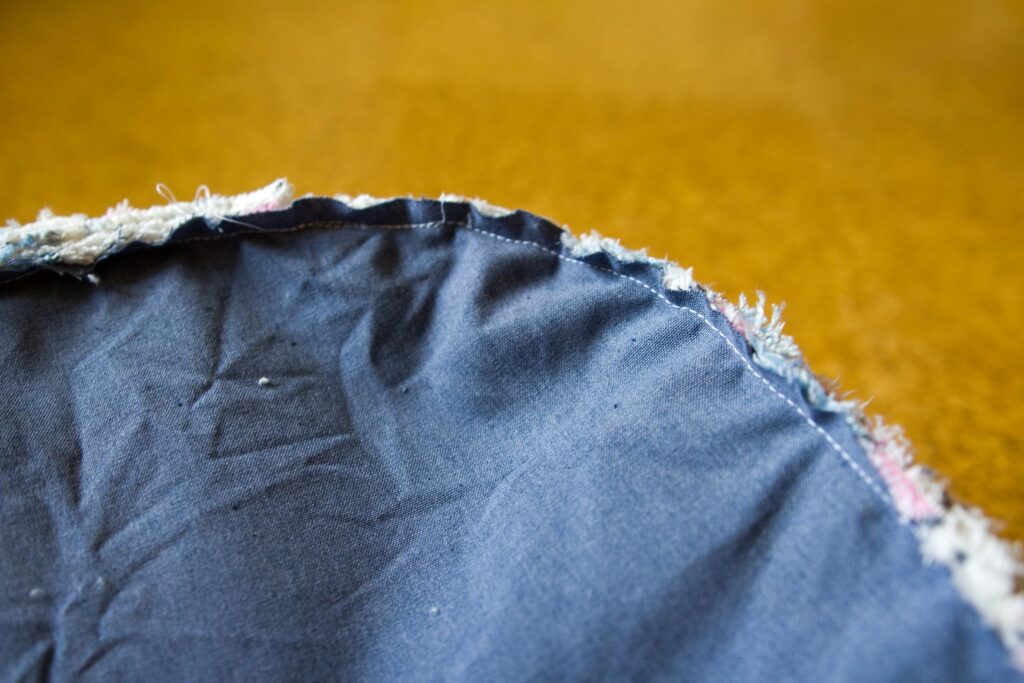 And finally, we sew together and sew with a zigzag stitch.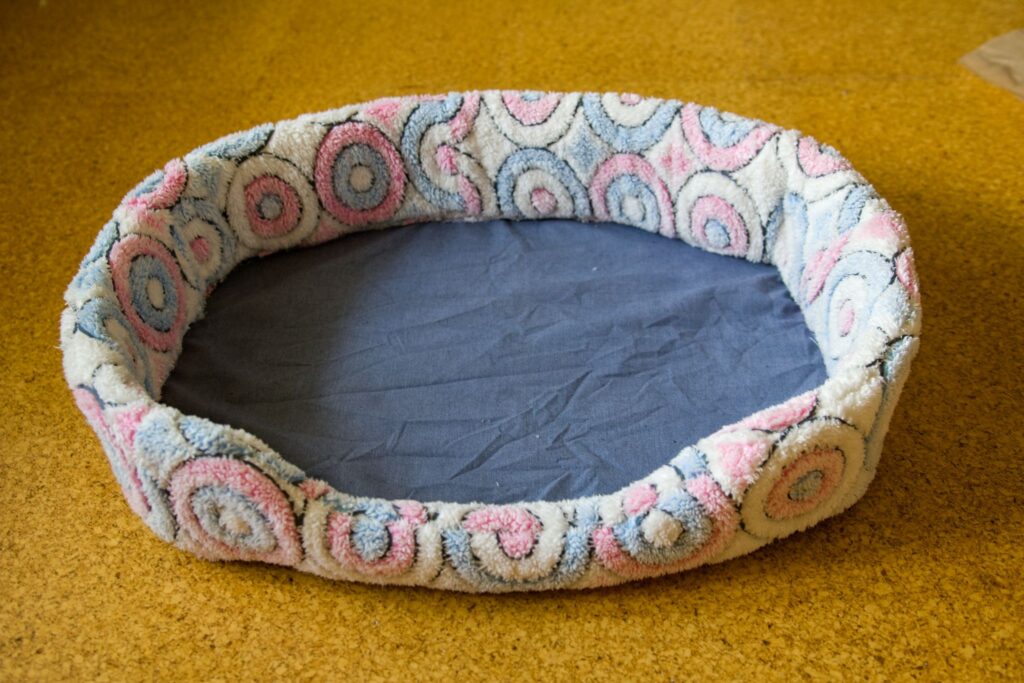 Finished bed without inner pillow.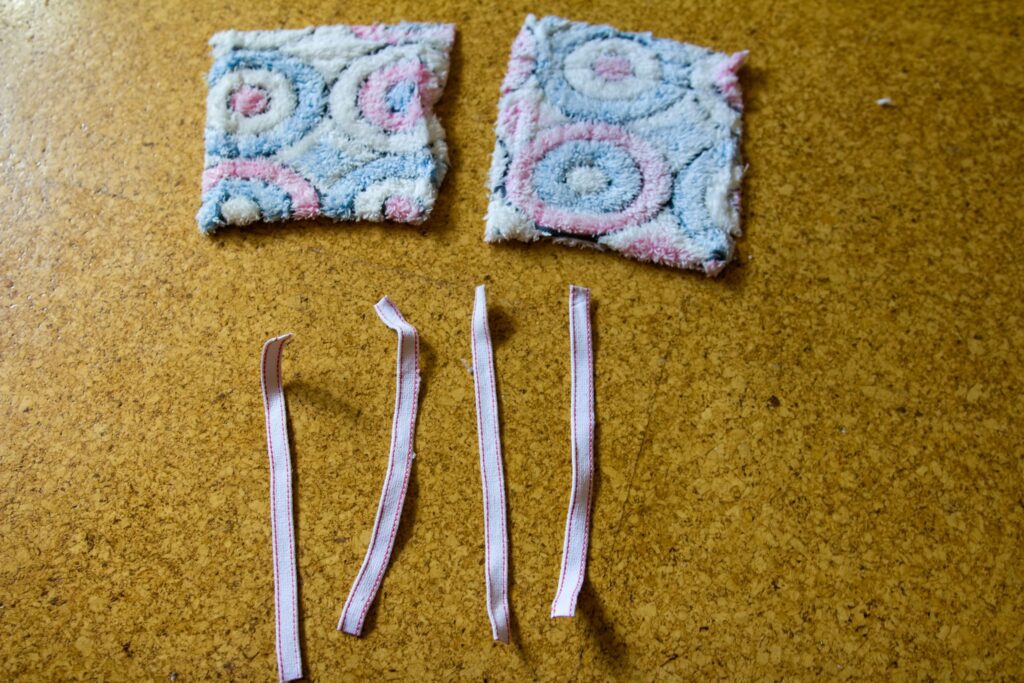 We can use the pockets of the bathrobe to sew a simple toy. We will need 4 laces.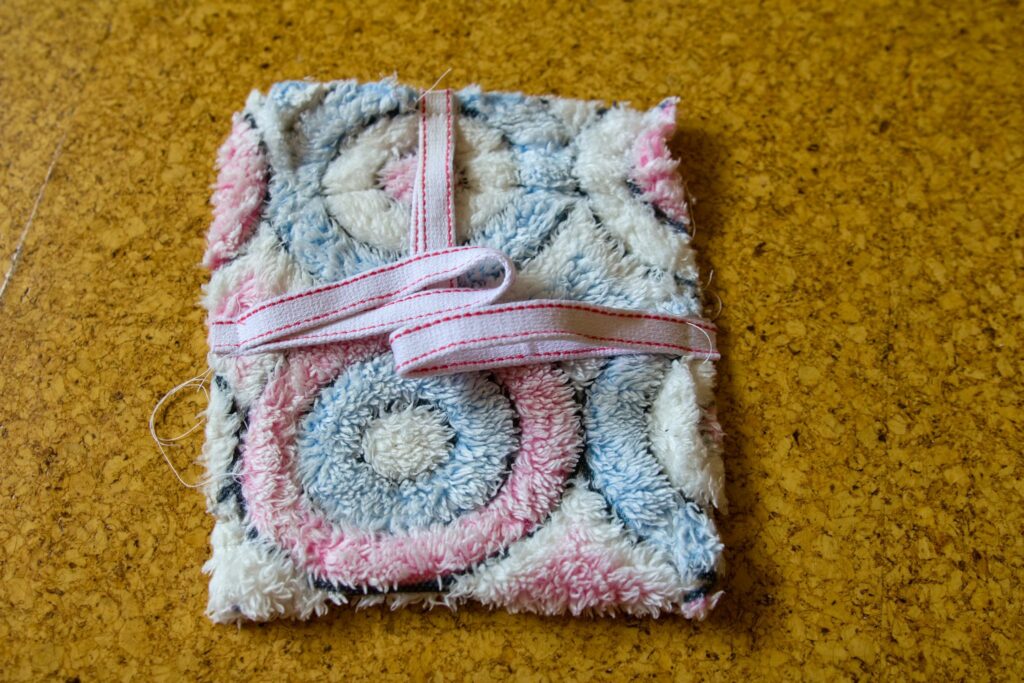 On the pockets from 3 sides, we place the folded laces in the middle. But not on the side where the pocket was bent.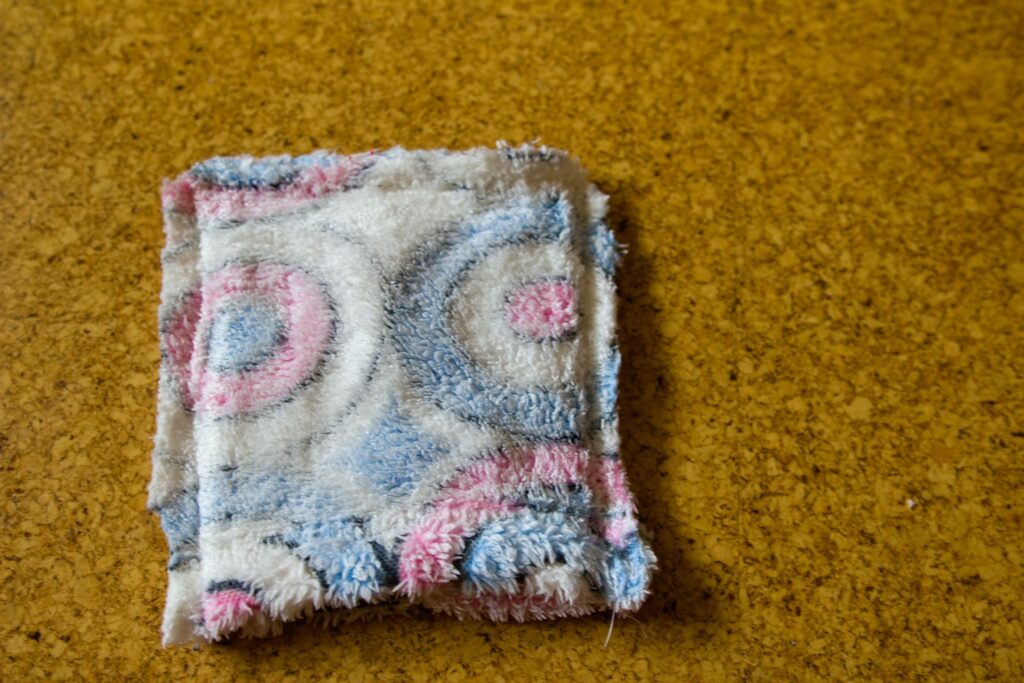 We place the second pocket with the right side on the right side and sew them together from three sides.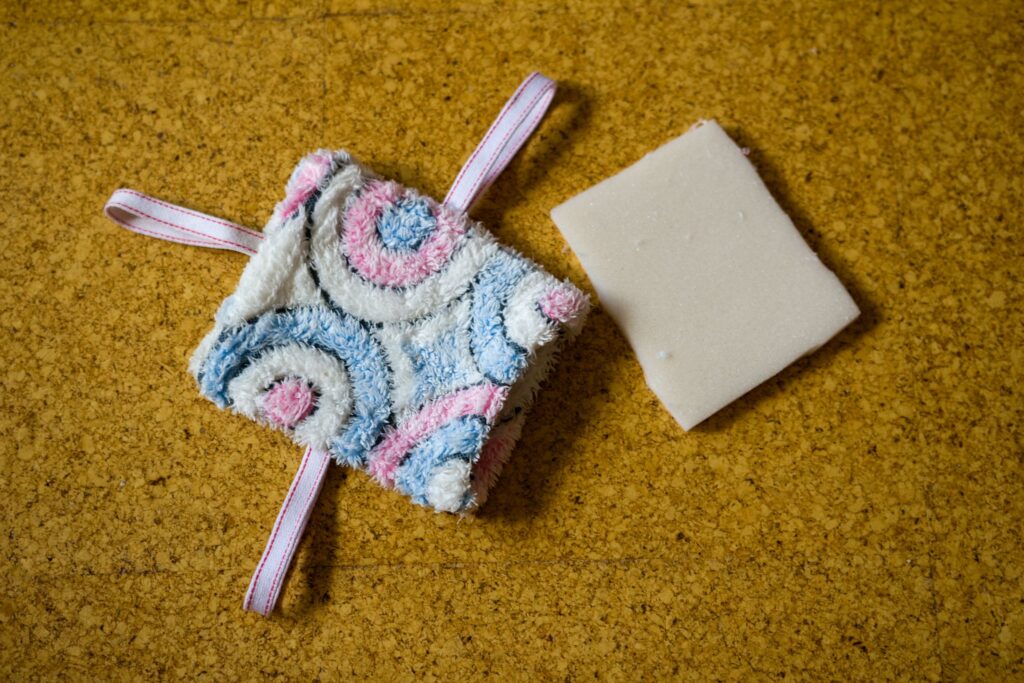 Finally, we insert the foam, attach the last lace and sew in the edge.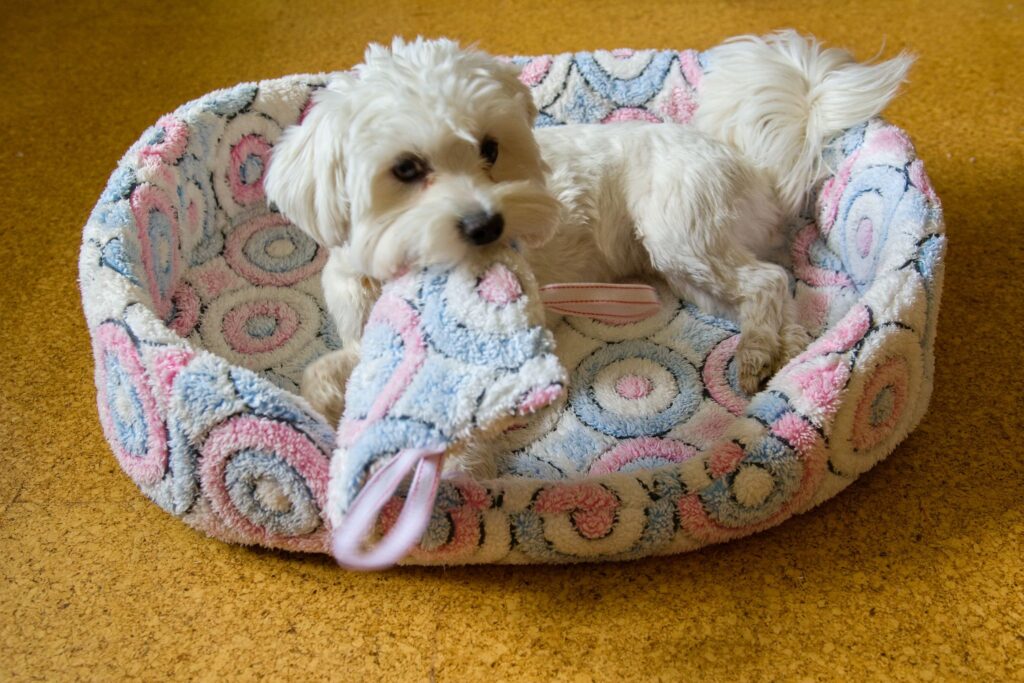 Because the bathrobe is pleasant to the touch, our Bella was delighted.